According to new research, about 90% of Americans use the internet and their favorite social media platforms when looking for healthcare-related information. As the healthcare market becomes more consumer-driven, patients are becoming more in-tuned to their roles as healthcare consumers, resulting in a significant shift in expectations. In particular, patients expect to be treated as individuals with unique needs and issues. Thus, a one-size-fits-all marketing approach doesn't foster personalization and, to an extent, patient satisfaction.
True enough, one of the most important innovations in digital marketing is personalization and how it helps patient engagement and provides a more satisfying user experience.
A Dassault Systèmes and CITE Research study shows 83% of modern consumers expect personalized products, services, and experiences. As such, when visitors come to your healthcare website, they hope to see information relevant to their needs, questions, and concerns. They're used to the "one-click" digital experience (thanks to end-to-end personalization from e-commerce websites like Amazon), where they have instant access to information relevant to them.
Website personalization is one of the best ways to provide user-centric experiences and curate a more dynamic digital experience for patients. This guide includes everything you need about website personalization and how to leverage it to improve patient satisfaction.
What is Web Experience Personalization?
Personalized web experiences aren't exactly a brand-new concept–even in the field of healthcare, which has typically trailed behind other industries in digital adoption. Website personalization encourages providers to present different information to patients based on historical data (i.e., previous interactions). For healthcare providers, it starts with identifying the patient's health needs and providing outreach based on those insights. Incorporating key patient information, such as lifestyles, behaviors, and preferences, will enable providers to deliver the right message at the right time and to the right audience. Plus, it also allows physicians to choose and select the most effective communication channels.
Personalized web experiences start with data collection. Your marketing team must collect essential information about your ideal patients, including health needs, preferences, interests, and demographics. Information is generally collected by explicitly asking visitors (e.g., requesting to disclose their location) or through various healthcare systems like a CRM (customer relationship management). A CRM is a system that collects guest data which you can turn into patient insights to understand your customer base and create targeted campaigns.
However, personalization isn't just used for outreach. Personalized marketing can also improve patient outcomes. Because you're anticipating individual needs and emphasizing relevant healthcare items, personalization helps ensure patients get the treatment they need.
What's the Importance of Website Personalization in Healthcare?
There are various ways website personalization can help improve overall patient satisfaction.
Improve Patient Engagement
Since you have a more holistic picture of your patient's needs and lifestyle, you can develop a highly targeted digital marketing campaign to deliver personalized experiences. Consumers appreciate personalization because it makes them feel like they're their person with unique needs and preferences. Tailor-made experiences help patients feel valued and empowered, establishing a connection and brand loyalty. Remember, engagement is a crucial factor in converting more visitors into patients.
Speed and Relevance
A personalized website can improve the patient experience with speed and relevance. With patient insights, you can determine the usual paths visitors usually take and map personalized pathway links to the information they want. As a result, visitors will find the information they want quickly, which may lead to a conversion down the line. If patients cannot find what they're looking for on your website, they'll leave swiftly and likely toward your competitors.
Better Patient Outcomes
Personalized marketing isn't just about messaging. Providers who have collected a wealth of insights regarding patient lifestyle, health requirements, and socioeconomic challenges will be better positioned to forecast their changing needs and wants. For example, personalization will enable healthcare groups to segment patients based on their financial situations, allowing you to craft custom payment plans and send payment reminders via personalized communication channels.
Best Practices to Personalize Your Website for Patient Satisfaction
Website personalization is not a straightforward and one-and-done marketing strategy. Below are the best practices to kickstart your personalization strategy:
1. Optimize Your Website's UX
User experience or UX is a set of practices that focuses on the user's needs and experience and is often used when designing websites and digital experiences such as patient portals, apps, etc. Simply put, well-designed UX is synonymous with user-friendliness. When potential patients visit your website, they'll evaluate their experience based on the following factors:
The website's ability and speed to provide the information they need

Easily accessible website features and functions: physician introductions, video tours, location information, appointment scheduling, etc.

The site and page load speeds (more on this later)

Quality of customer support.
The goal is to provide frictionless and comfortable digital experiences while acknowledging the patient's needs and values. At a basic level, best practices like easy-to-read fonts, intuitive layout and navigation, professional images, and prominent call-to-actions (CTAs) must be implemented. In addition, when optimizing UX, ensure the digital experience you offer answers the following questions:
Will patients accomplish their goals while on my website?

Do I currently provide the best experience possible? 
If you can't answer these questions with a resounding "yes," you'll likely lose potential new patients to your competing practices.
2. Improve Page Load Speeds
Slow-loading pages are a hallmark characteristic of poor web design and are the antithesis of user satisfaction. In fact, according to a 2017 Google study, an increase in page load speeds from 1 to 3 seconds equals a 32% increase in bounce rate. Google's Page Speed Insights is one of the best tools to evaluate your website's page speed–aim for a score greater than 80.
Having said that, below are several optimization steps to improve page speed:
Compress and optimize images

Avoid multimedia clutter

Minimize 404s and redirects

Remote or deactivate unnecessary WordPress plugins

Enable browser and web page caching

Use a content delivery network (CDN)
I highly recommend checking out our guide on How to Increase Page Speed and Get More Traffic to learn more.
3. Develop a Mobile-Friendly Website
Did you know that more than 60% of worldwide web traffic comes from mobile devices like smartphones? With that said, mobile technology doesn't display your healthcare website on a smartphone or tablet the same way it looks on a desktop system. If your healthcare website is not mobile-friendly, it will not display correctly on mobile devices—with limitations like stretched interface, unreadable text, and slow loading speeds.
With a mobile-optimized medical website with responsive design, your website will be displayed correctly regardless of which system it's being viewed. Mobile-friendliness enables visitors to interact and engage with your brand with zero friction, enhancing patient satisfaction.
4. Provide Dynamic Custom Content
The core pillar of website personalization is sharing relevant content with the target audience. In the consumers' eyes, if the website content isn't personalized, it's irrelevant to them. Custom content solves the problem of relevance and thereby helps boost conversion rates.
Tailor-made content forges an emotional bond with patients. Since the information they see on your website is in tune with their needs, you're forming a stronger bond with patients. They'll feel they can trust your practice to solve their unique issues and help them accomplish their healthcare goals. Through this connection, you can build trust and credibility for your brand, which is critical for marketing results.
Outlined below are several strategies to personalize your website with dynamic content:
CTA personalization:

CTAs attract people's attention and compel users to take specific actions like signing up on email lists or downloading an app/patient portal. CTAs present an excellent opportunity to personalize your website and show a clear path to visitors based on where they are on their journey. Personalize your CTAs based on behavioral and psychographic data. An excellent example is customizing CTAs for current and potential new patients.

Relevant dynamic content:

Visitors coming to your website have healthcare-related questions and concerns. Thus, your website can be designed to show custom content and present recommendations based on specific criteria, including search terms, geographic location, lead attribution, medical history, etc. As a result, patients will be provided with custom content relevant to their needs, from patient stories to medical services to health screenings.

Content recommendation:

This system suggests relevant content to patients who have already engaged in your website in one way or another. You're offering them more information that they might be interested in. Typically, recommendation sections are labeled "You Might Also Like," "Suggested Reads," or "Just for You." The result? The visitor consumes more relevant content and stays on your website longer.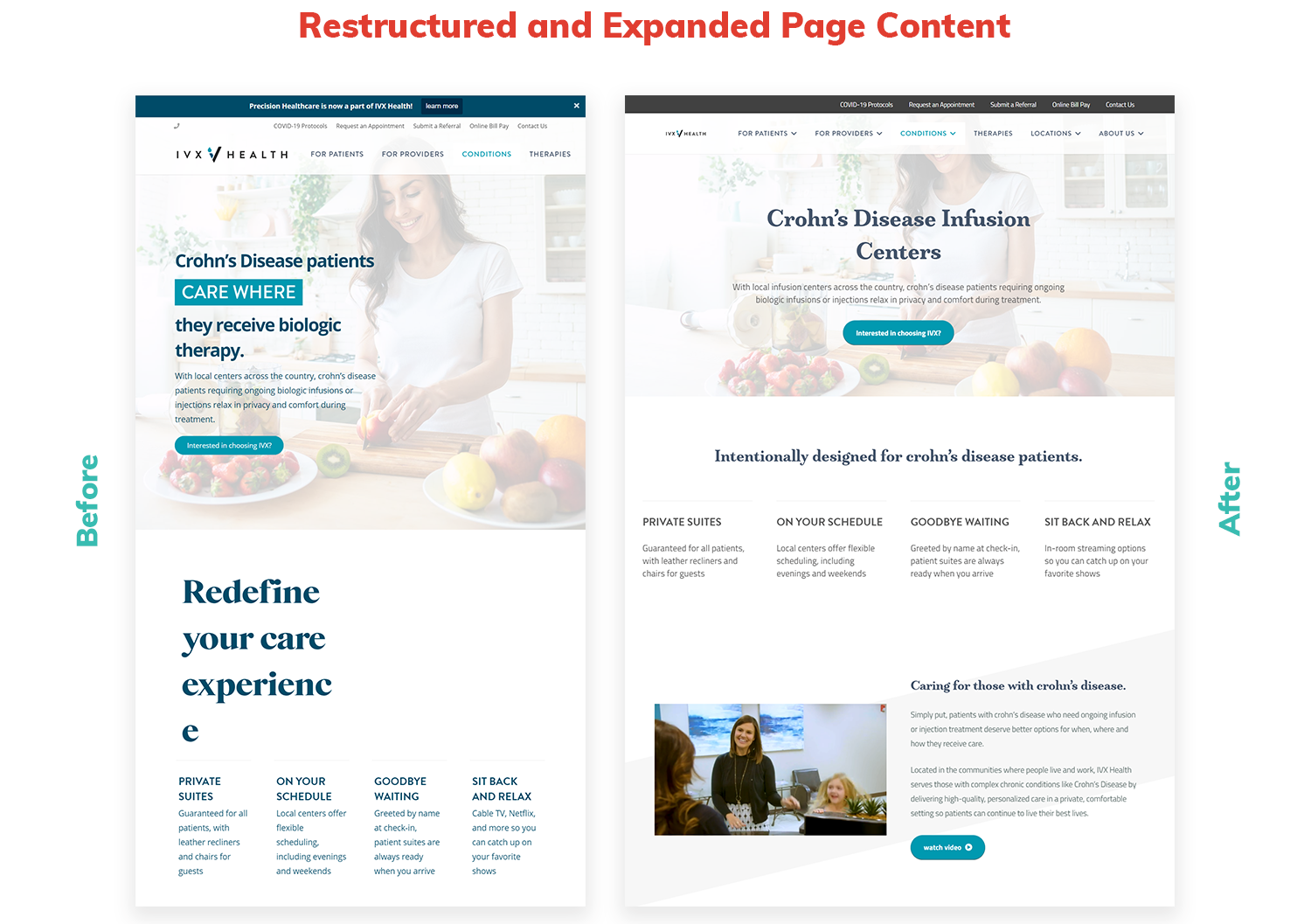 5. Create Patient Personas
With the significant shift towards the consumerization of healthcare, marketers are finding more ways to understand their target audience–leveraging patient personas is one of the best ways to achieve this feat. Patient personas are essentially semi-fictional representations of ideal patients based on your research and data collected from previous visitors.
Patient personas help you determine the type of patients you want–aka people who are more likely to engage with your brand and, hopefully, result in an appointment. As you create these personas, you'll run into positive and negative personas. Negative personas are low-quality leads with less appealing attributes. They could be visitors looking for treatments or technology you don't have and one-time visitors.
Detailed patient personas can do wonders for website personalization, and use them for your marketing advantage. With a wealth of consumer data on hand, you'll be on track to make informed marketing decisions and leverage it for your other marketing pieces, including:
Market segmentation

Content creation

Marketing messages
Invest in creating patient personas so you can personalize many aspects of your marketing efforts.
6. Implement Patient Portals
The accelerating adoption of digital solutions among consumers has proven one thing: patients want to take a more active role in their healthcare journey. On top of being able to research their healthcare options, patients wish to have direct access to their medical records. In the past, people needed in-person visits to get a copy of their documents. With patient portals, consumers can access their medical information at their fingertips.
Benefits of Patient Portals
Patient portals are growing in popularity and are a robust solution for patient-centric experiences. How can patient portals benefit your practice? Here are the ways:
Access to digitized medical records:

The best benefit of portals is that it enables patients to access their medical records through a website or app, including test results and upcoming appointments. Plus, they take the load off your staff members because patients have everything they need to know about their health via the portal.

Serving targeted content:

Patient portals are excellent places for marketers to offer targeted content to their audience. The portal provides quick access to educational information about their conditions, medications, and procedures in one convenient place. Relevant content through the portal helps with engagement and better patient outcomes.

Appointment scheduling:

One of the most time-consuming tasks for your staff is scheduling and following up on appointments. With patient portals, you don't have to deal with this headache anymore. You can integrate a patient scheduling system within the portal where people can set up appointments and receive reminders.

CRM integration:

Patient portals can integrate with your CRM system. When done right, you can automate specific tasks like patient scheduling for a more streamlined operation.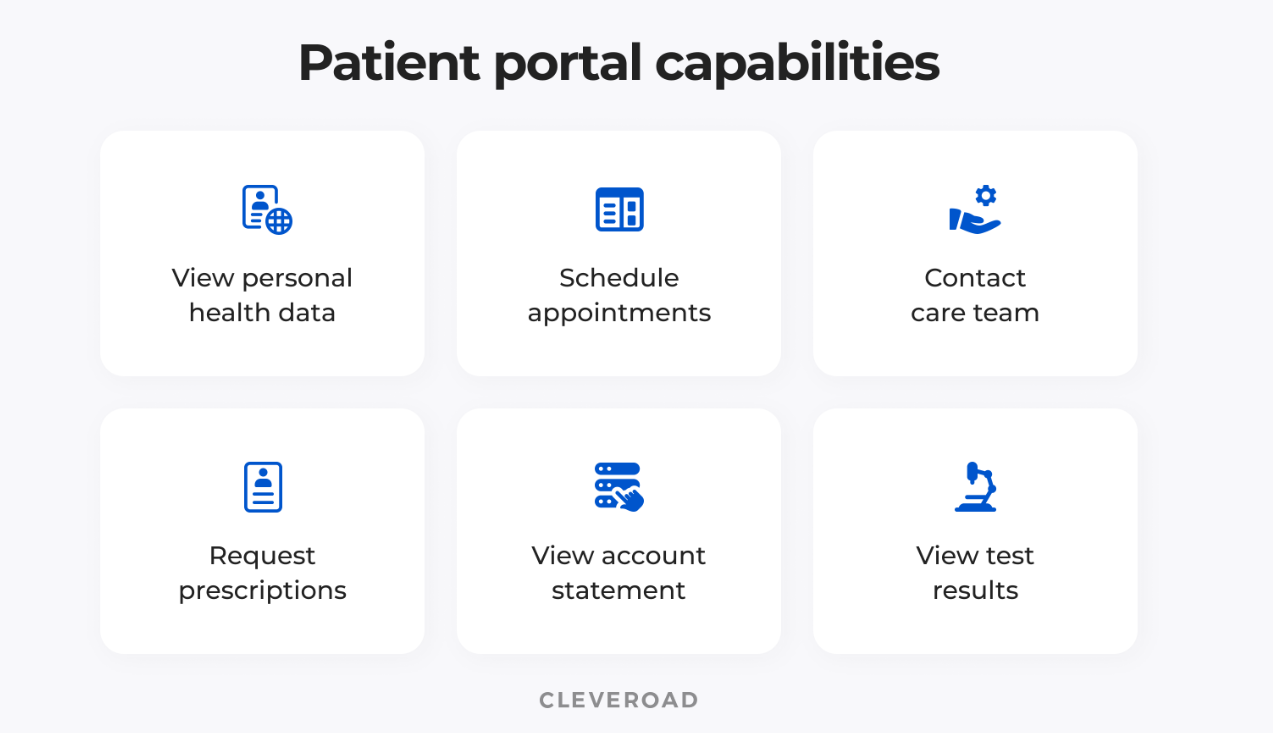 Encourage visitors and patients to use your patient portal by giving it a prominent place within your website. For example, you can add high-profile links to the portal on your home and location pages. The idea is to eliminate as many barriers as possible for a more intuitive user experience.
7. Legal and Ethical Considerations
Before you start your website personalization campaign, remember to mind your campaign's legal and ethical guidelines.
One of the trickiest parts of healthcare marketing is HIPAA compliance. To illustrate, marketers can only leverage patient information for marketing initiatives under specific circumstances. Furthermore, appropriate security measures are a must to protect sensitive patient information. This is why many physicians and healthcare practitioners are apprehensive about website personalization.
There are also concerns surrounding the collection and usage of consumer data. While many visitors will happily provide their information, asking for too much sensitive information may be seen as a red flag. People are more alert when it comes to their privacy and safety.
Thankfully, partnering with a digital marketing agency will ensure that patient privacy and other legal considerations are correctly approached.
Embrace Website Personalization to Satisfy Patients
That wraps up the strategies you can use to personalize your website and healthcare marketing campaign. More than ever, medical providers should embrace the concept of personalized digital experiences to improve patient satisfaction and grow their practice in general. In this hyper-competitive healthcare landscape, personalization allows your brand to stand out from the crowd.