Cardinal helped the country's largest mental health care provider scale digital marketing to 500+ locations.
Company Overview
LifeStance Health
Founded in 2017, LifeStance Health is reimagining mental health. LifeStance is one of the nation's largest providers of virtual and in-person outpatient mental health care for children, adolescents and adults experiencing a variety of mental health conditions. The company's mission is to help people lead healthier, more fulfilling lives by improving access to trusted, affordable and personalized mental healthcare. LifeStance employs more than 4,000 psychiatrists, advanced practice nurses, psychologists and therapists across 31 states and approximately 500 centers.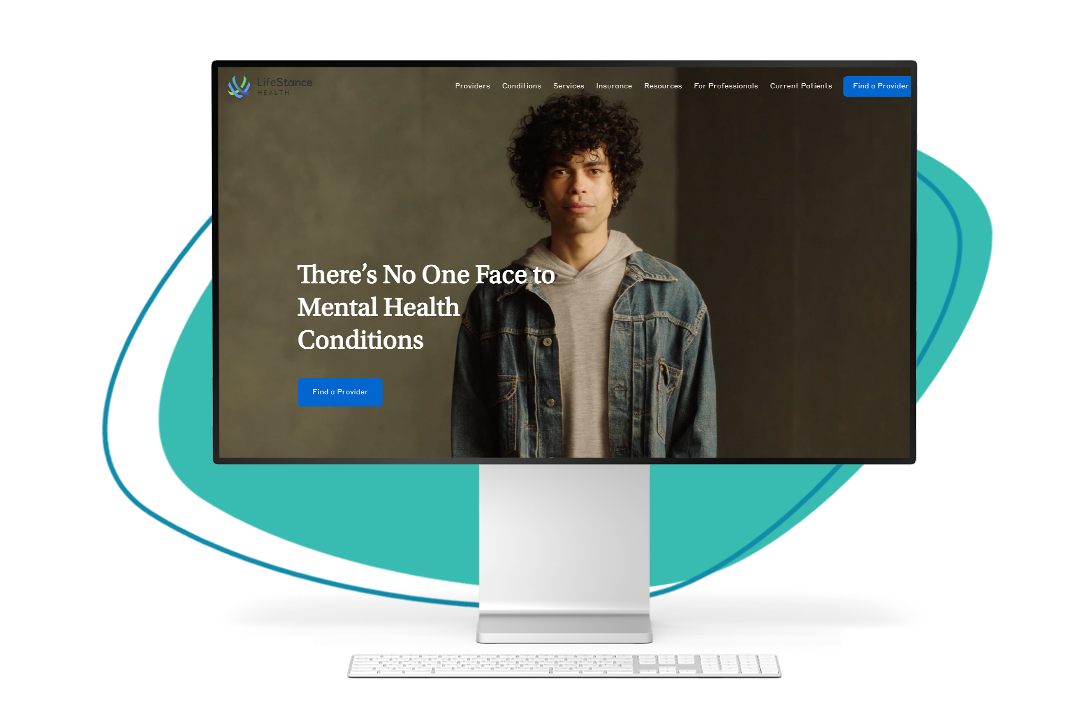 The Problem
How to scale up marketing from regional to national brand
When LifeStance first approached Cardinal Digital Marketing, it needed to scale marketing up from three fragmented regional brands to more than 20 brands located across the nation. The company needed to create a "repeatable" digital platform that it could spin up for new regional brands, which the company continues to acquire at a dizzying pace. As part of their growth strategy, LifeStance then consolidated those regional groups under a national brand and rolled out a nationwide telehealth offering. To ensure they could meet their rigorous growth objectives, they needed a digital marketing agency that had extensive experience scaling multi-location medical groups.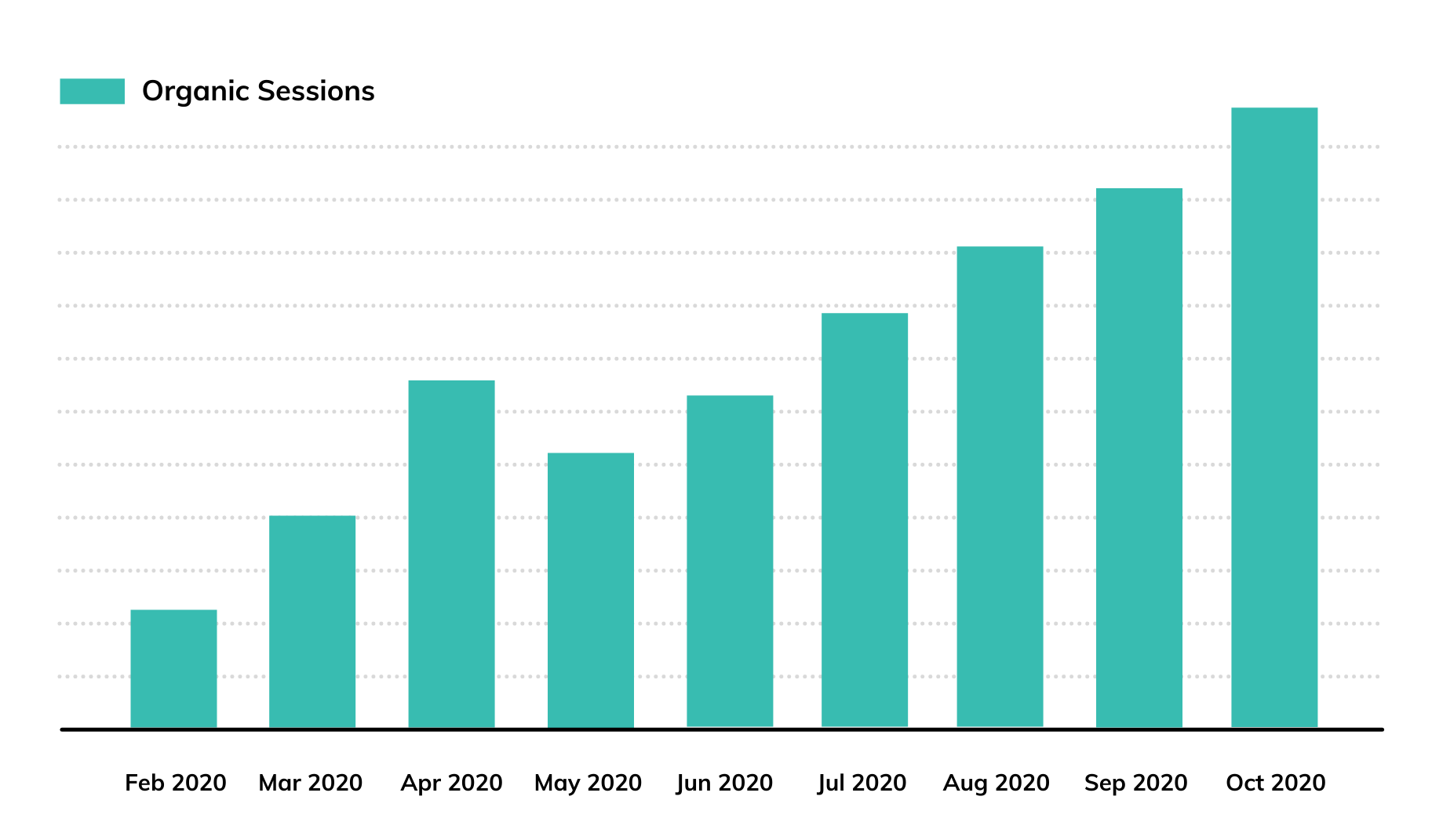 Step 1
Drive Traffic by Developing a Robust SEO Strategy
Cardinal breathed serious life into LifeStance SEO metrics with a unique, multipronged approach. This included extensive link building, content marketing, and technical SEO that built a solid groundwork for growth, which can easily be reproduced for new acquisitions. Since the beginning of this engagement, organic search traffic has steadily increased.
LifeStance's organic efforts are outpacing the market average, with competitors relying on traditional advertising to drive more direct traffic. LifeStance is beginning to claim new organic search market share, projected to outrank two top direct competitors by December 2021.
Long-term results: LifeStance now ranking for 14K+ new keywords in one year.
Achieved top national rankings for "high-volume" search terms (5,000+)
Top Rankings for:

Telehealth psychiatry
Telehealth therapy
Online psychologist






How We Did It
Holistic Content & SEO Strategy
Full-funnel strategy
Built a full-funnel content marketing strategy that takes into account the different stages of the patient journey
(top, middle, bottom) and how it affects their relationship with LifeStance.
Blog posts
Services & conditions pages
Locations & providers pages
Sitewide keyword optimization
Cardinal's SEO strategy is optimized for where Google is going, not where it is now. That's why we optimized LifeStance to suit the way Google uses entities to match the user intent to results (even when the keywords aren't an exact match).
Content silos
Semantic schema markup
Internal linking
Entity-focused keyword selection
Link building
Link building outreach is a core part of our broader SEO strategy for LifeStance. Today, a variety of link building efforts have achieved a snowball effect in which LifeStance is naturally earning links from the content we've created, as well as other earned links.
Niche edits
Guest posting
Forum commenting
On-page and technical SEO best practices
LifeStance now enjoys a scalable technical framework that helps their content get discovered, crawled, indexed, and ranked at a much faster rate. This includes custom post types; dynamic XML sitemaps; crawl rate optimization; clean URL structures; and dynamic schema markup.
Performance monitoring, and reporting
100s of monthly technical SEO checkups and reports
Google Core Web Vitals update optimization
We value our strong partnership with Cardinal and their ability to consistently crush conversion goals, month over month. Communicative and responsive to our business objectives, the team is constantly looking for ways to improve performance and fuel our growth.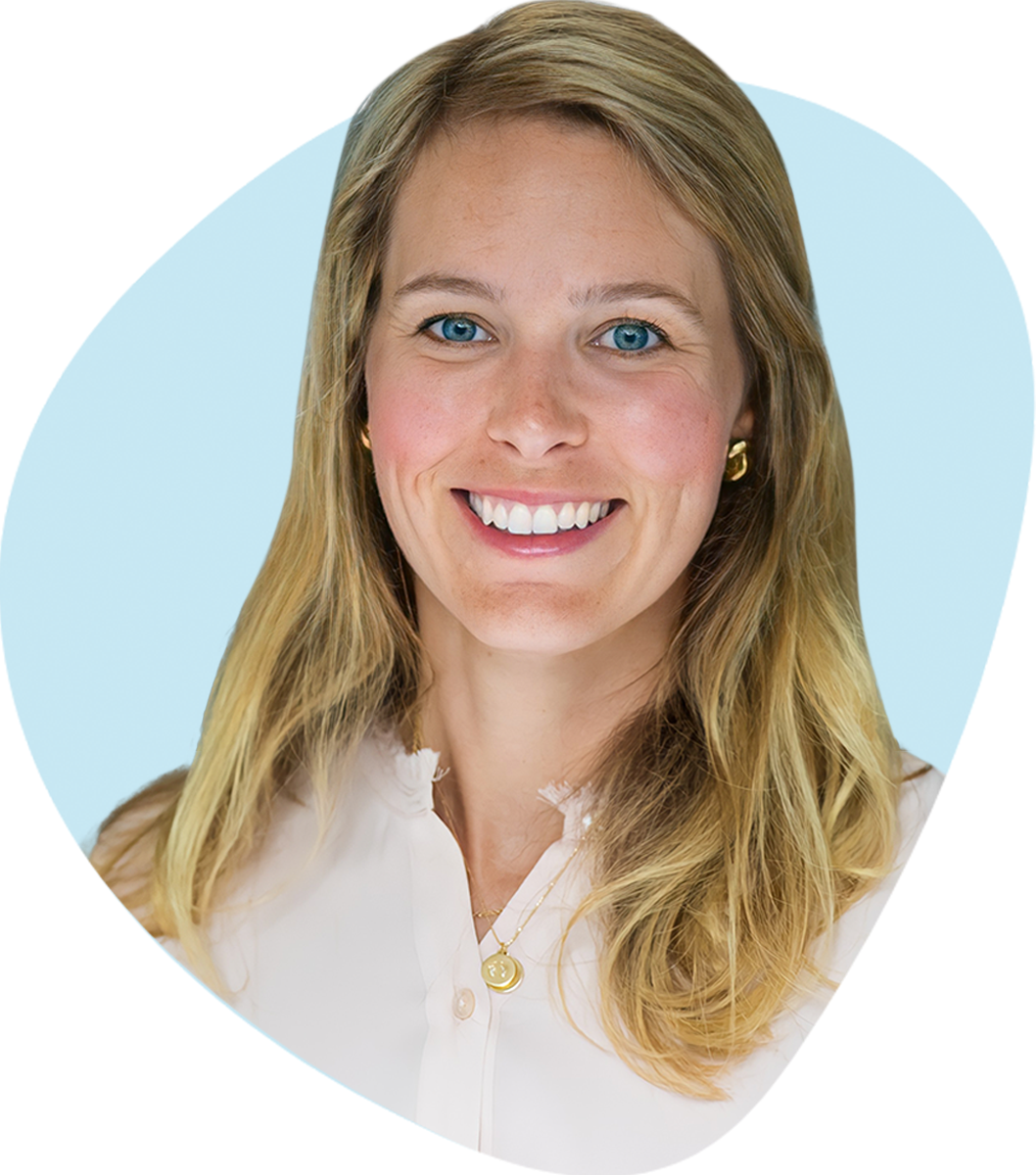 Step 2
Increase Patient Volume With Efficient Paid Search Campaigns
To augment ongoing SEO efforts and capture incremental patient volume at a cost effective cost per acquisition (CPA), Cardinal helped LifeStance launch various paid search campaigns. Our approach to running media across paid search is investing the next dollar in the most effective channel. As such, the paid media budget is allocated fluidly, on a month to month basis, to remain agile and adaptive to new trends. Using this approach, we've been able to scale LifeStance PPC with minimal efficiency loss.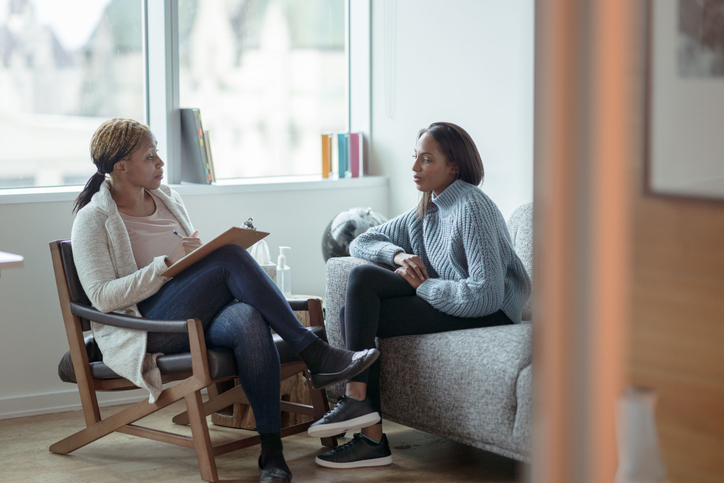 How We Did It
Campaign Consolidation
Account-level consolidations have improved algorithm performance significantly, without sacrificing relevancy. For PPC, grouping by themes and intent has been pushed to the ad group level to allow the algorithm to find the most cost-effective conversions across geographies.
New campaign structure
Campaigns are now broken out by state and by keyword category. Within each campaign, ad groups are further segmented into subcategories based on keyword themes. Ad groups are also segmented by match type which allows us to funnel traffic to exact match keywords that tend to have higher quality scores and therefore lower CPCs.
Testing new ad formats
After testing, we found that responsive search ads drive a slightly lower CTR compared to expanded text ads. However, this ad type opens up available inventory due to the higher relevancy and ad rank.
Testing messages for specific themes
Cardinal launched campaigns with ads in each group focused on four specific messages:
We accept most insurance
From home
Just a click away
Evergreen
We found that the insurance theme drove both the highest click-through rate and the highest conversion rate.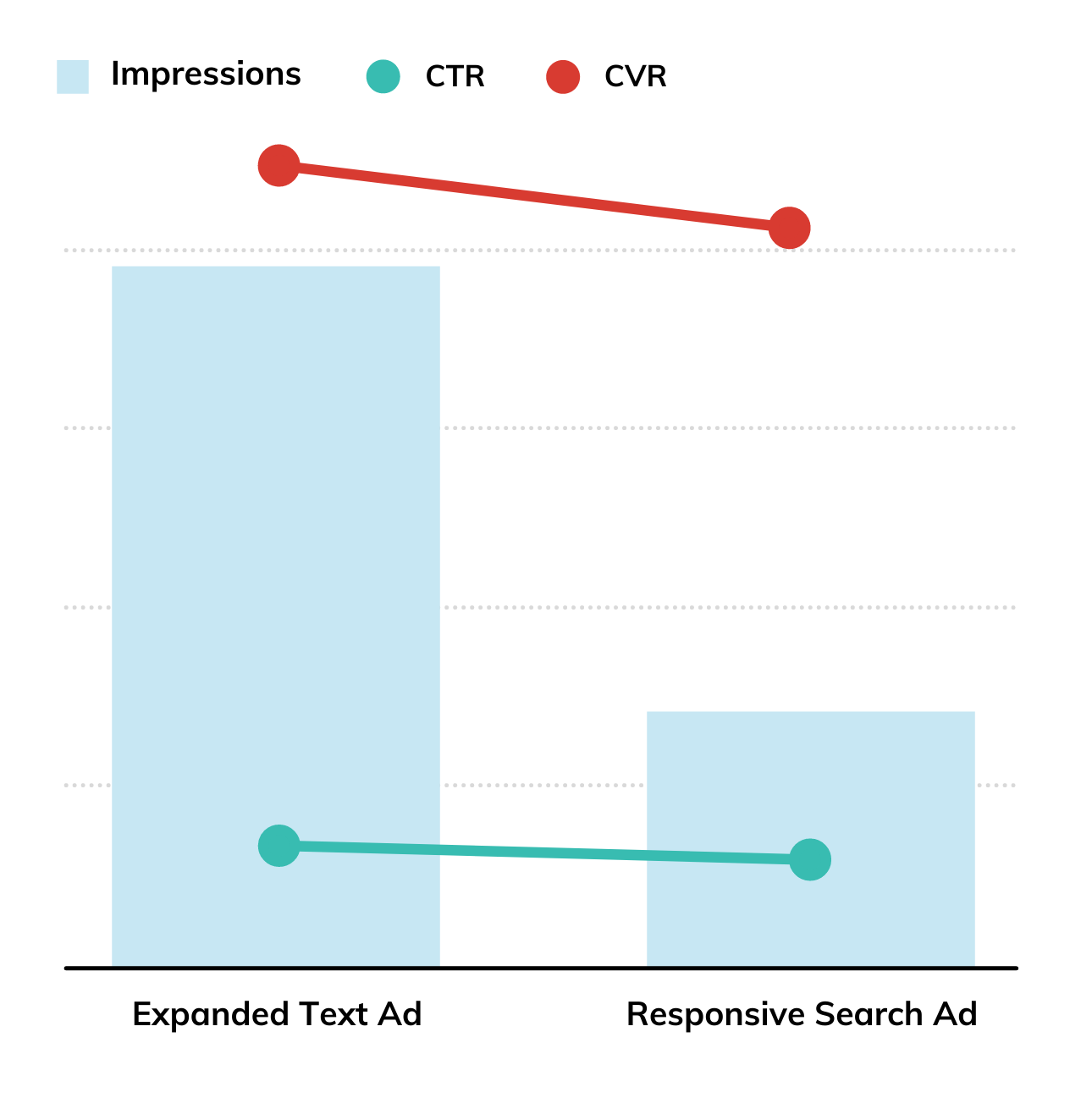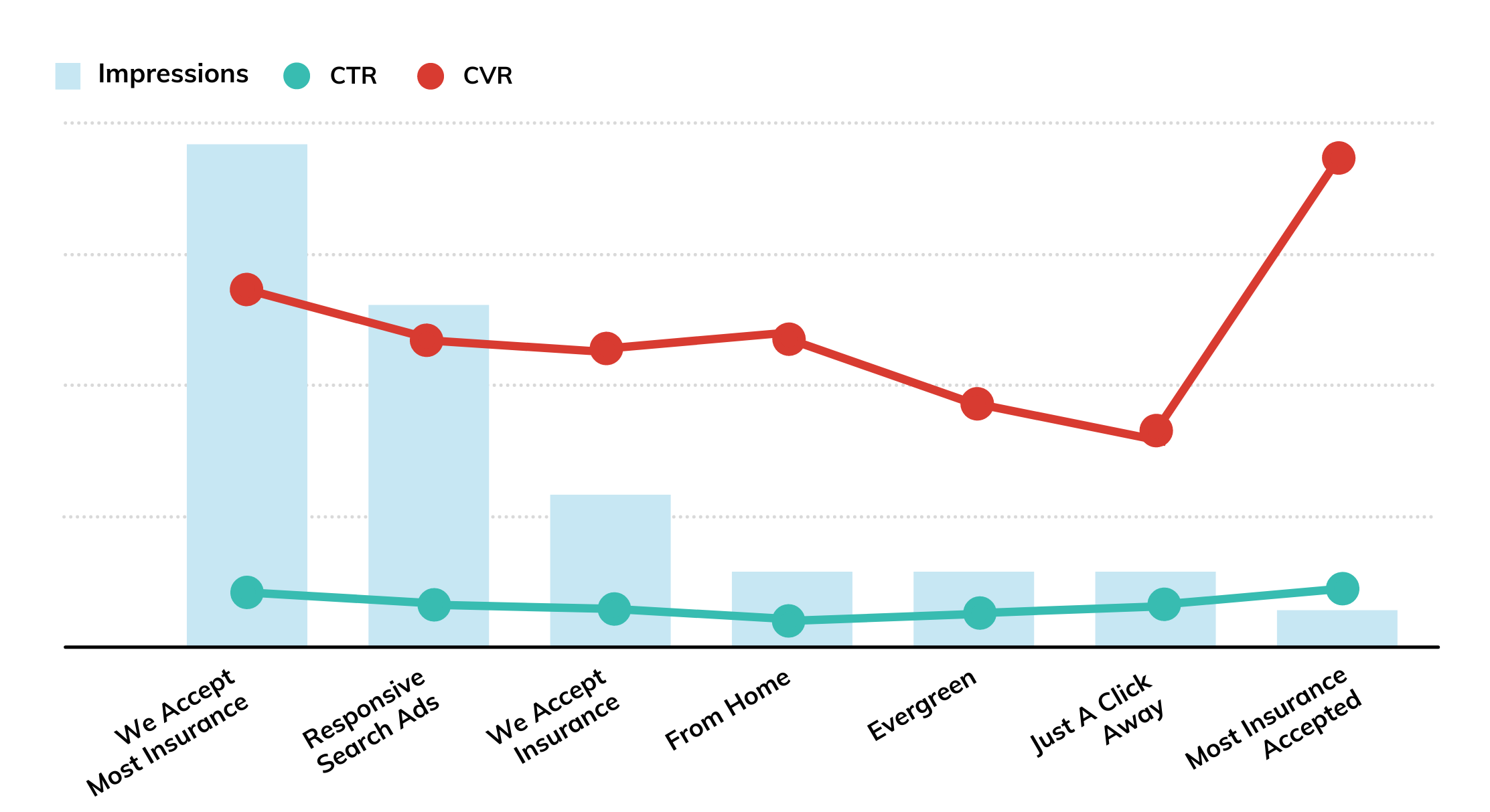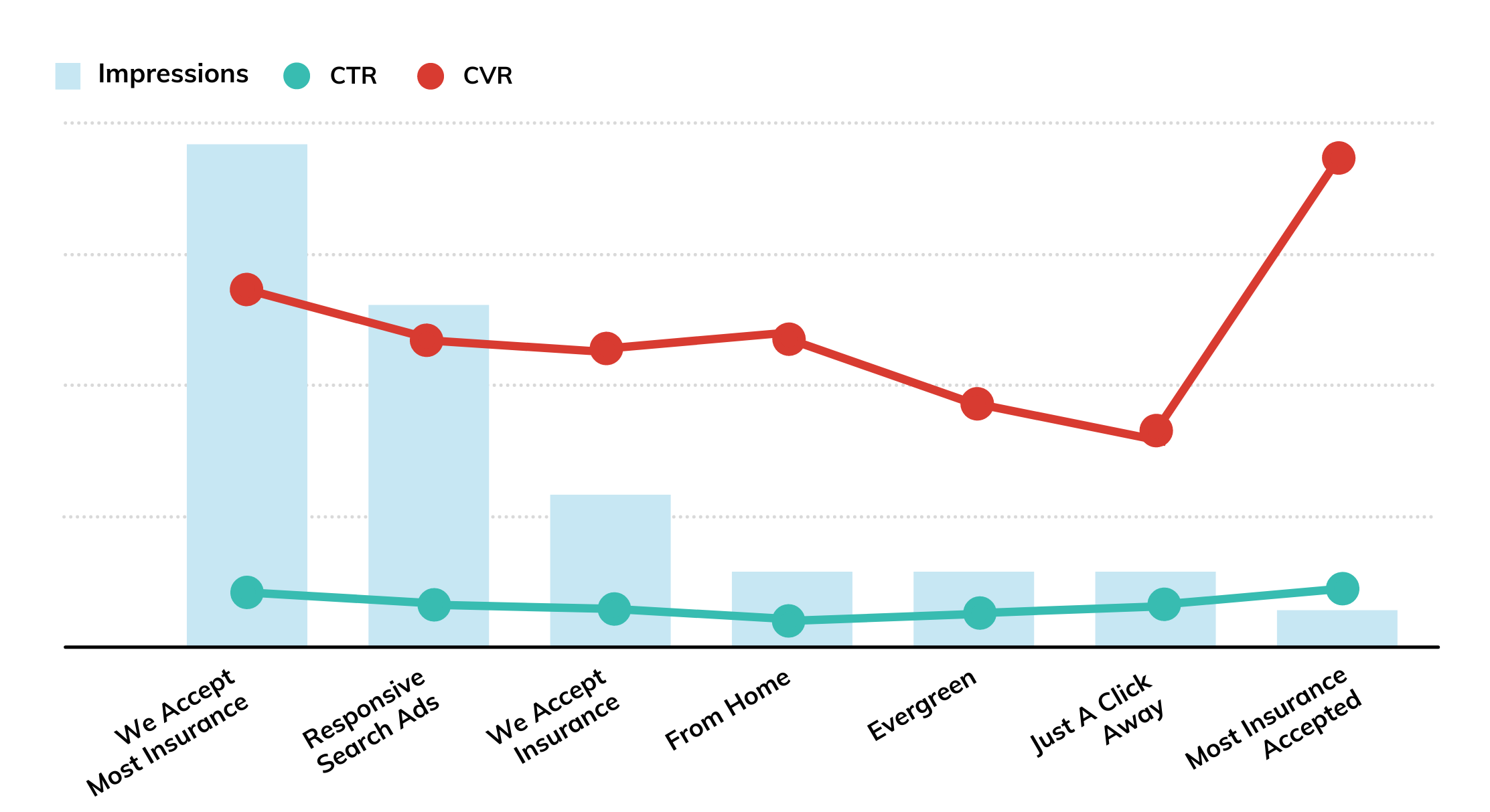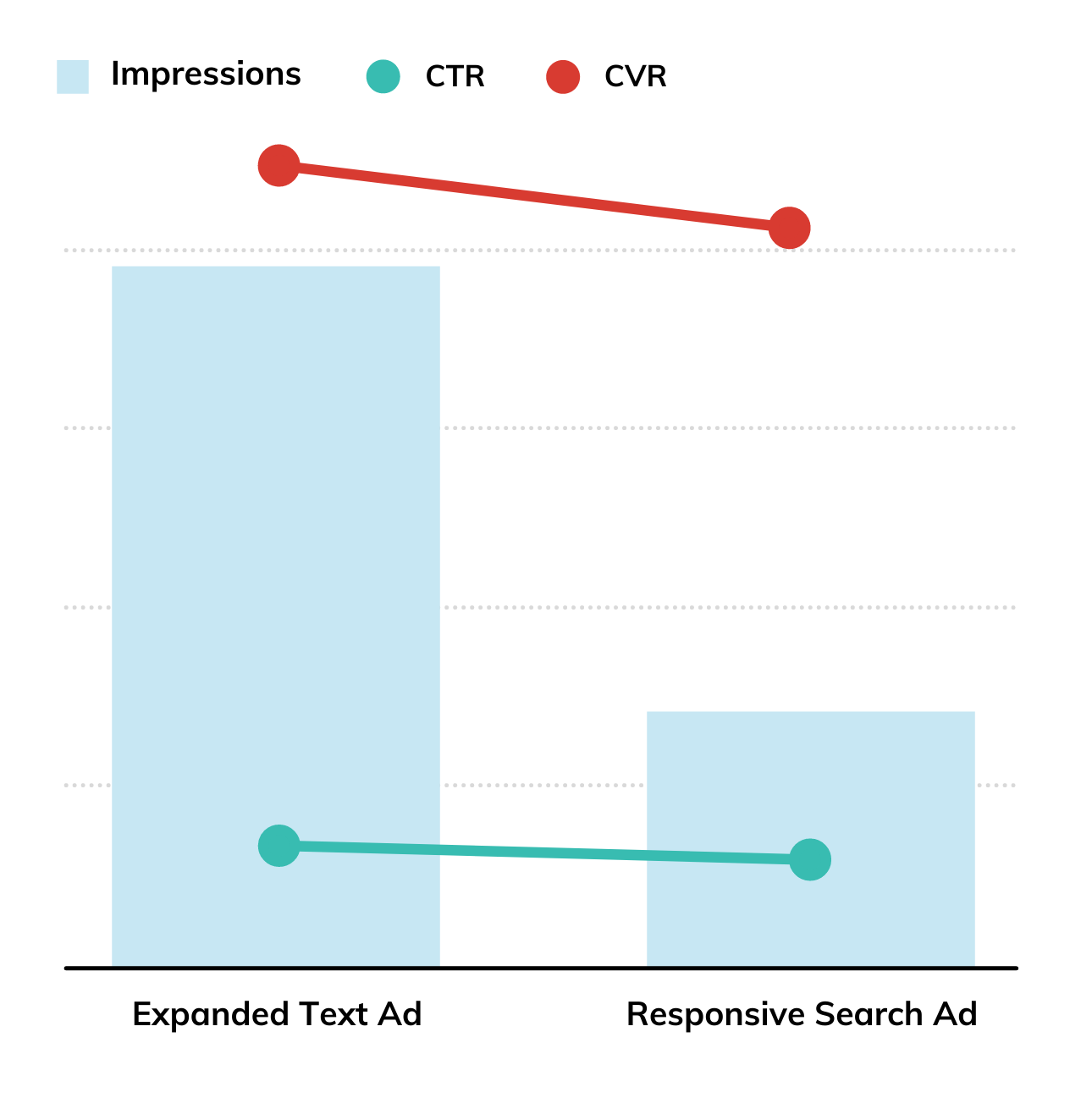 New Keyword Coverage and Expansion
At launch, campaigns were only targeting online and telehealth related keywords. Cardinal tested generic keyword sets and found that the CPC for this keyword set was significantly lower. After rolling these campaigns out across all states, we saw the same trend hold for other states. Generic keywords continue to drive the most conversions in the account compared to telehealth.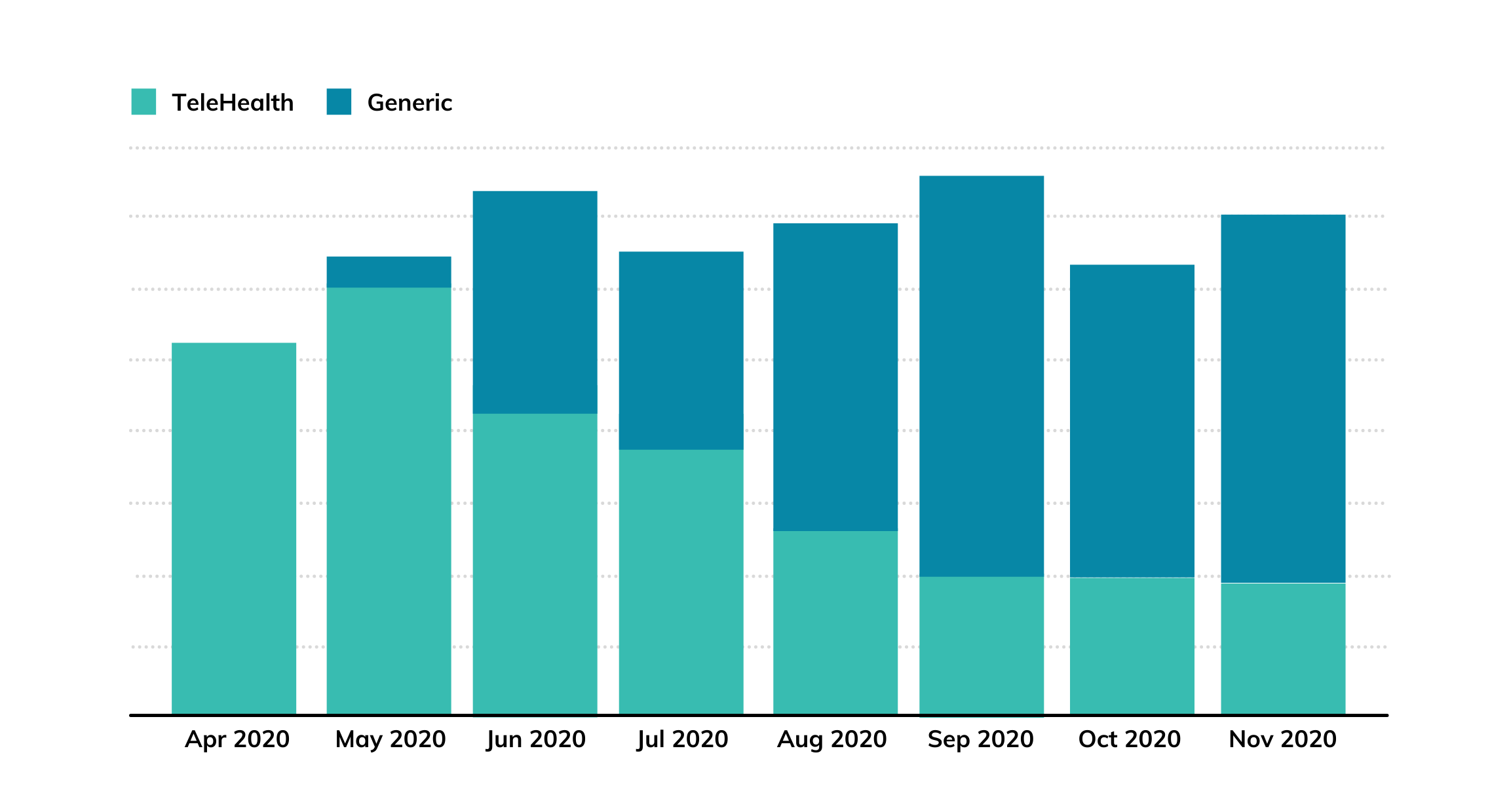 New call-only ads
Call-only ads were rolled out in June across all states. These ads were added to both telehealth and generic campaigns at first. We also tested different bidding strategies to ensure these ads were serving a significant number of impressions.
Smart bidding adoption
To reduce cost per conversion, we tested several new bidding strategies within one test market. Our tests found that smart bidding delivered cost per conversions that were 20-30% lower than manual bidding strategies.
Once this method was validated, we rolled out smart bidding across all campaigns to maximize conversions.
Step 3
Increase Brand Awareness Through Paid Social Media
As a rapidly growing business, LifeStance lacked brand awareness in many of its new markets, which hindered their ability to attract new patients. Choosing a mental healthcare provider is a carefully considered decision, and people are unlikely to choose unknown brands. Multiple touchpoints are necessary before a prospect is ready to book an appointment. With nearly 1.82 billion daily active users, Facebook advertising is an effective tactic to build brand awareness and nurture prospective patients.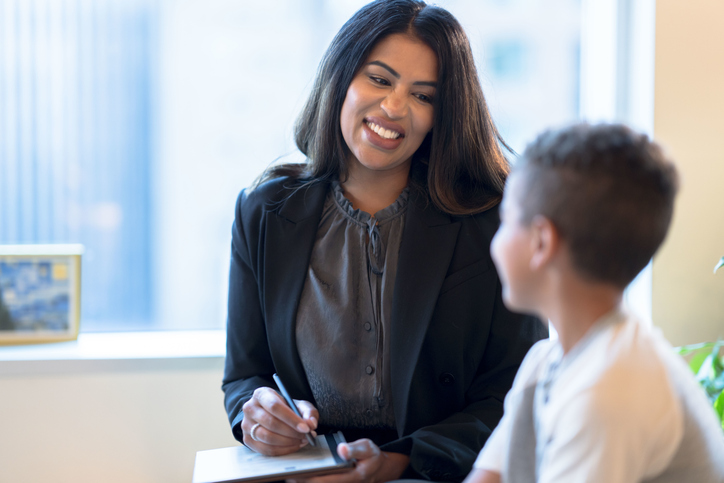 5000 conversions
in 5 months (outbound clicks + click to call)
24% CPA decrease
for prospecting campaigns in 5 months
35% CPA decrease
for retargeting campaigns in 5 months
How We Did It
Optimized Facebook Campaign Structure
The success of our paid social strategy can also be attributed to campaign structure and our location grouping model. We group locations into campaigns based on their historical CPA and CPM costs. Our model aids the algorithm in finding users with the highest likelihood of conversion without feeling the impact of drastically different geo-targeting. By combining locations, Facebook has been able to deliver Lifestance's ads to similarly-acting individuals and thus charge less in the process.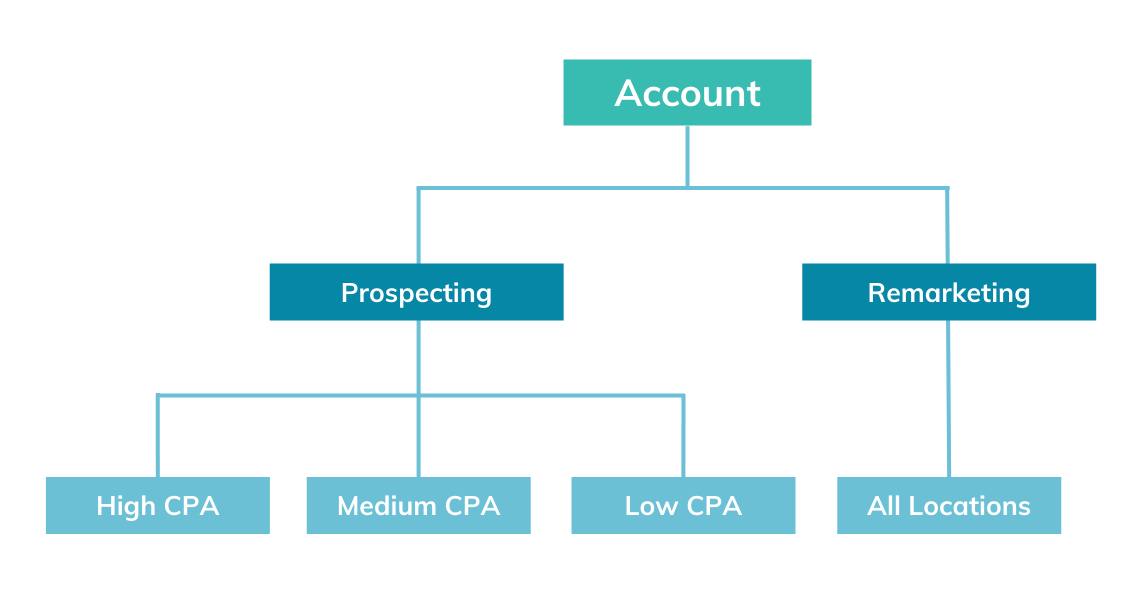 New social creative
The quality of your ad creative directly impacts a campaign's CPM. Facebook doesn't like text heavy, boring ads. You need high-quality ad creative that fits Facebook's best practices to improve your ad quality and thus CPM. After launching new video ads, we boosted ad engagement, increased CTRs, and improved ad efficiencies. The new video units also provided a venue for audience retention by capturing prospects that have viewed 50% or more of our ads.
Full-funnel social approach
To quickly introduce the brand to potential patients, Cardinal developed a robust paid social media strategy. The full-funnel strategy was designed to inform targeted user groups of LifeStance offerings—and qualify them—all before serving up an ad with the goal of scheduling an appointment. For example, it was only after a prospect watched a video to a certain point that they were moved to the next stage of the funnel. This full-funnel paid search strategy proved extremely effective at reducing CPAs and CPMs while efficiently bringing in leads for LifeStance.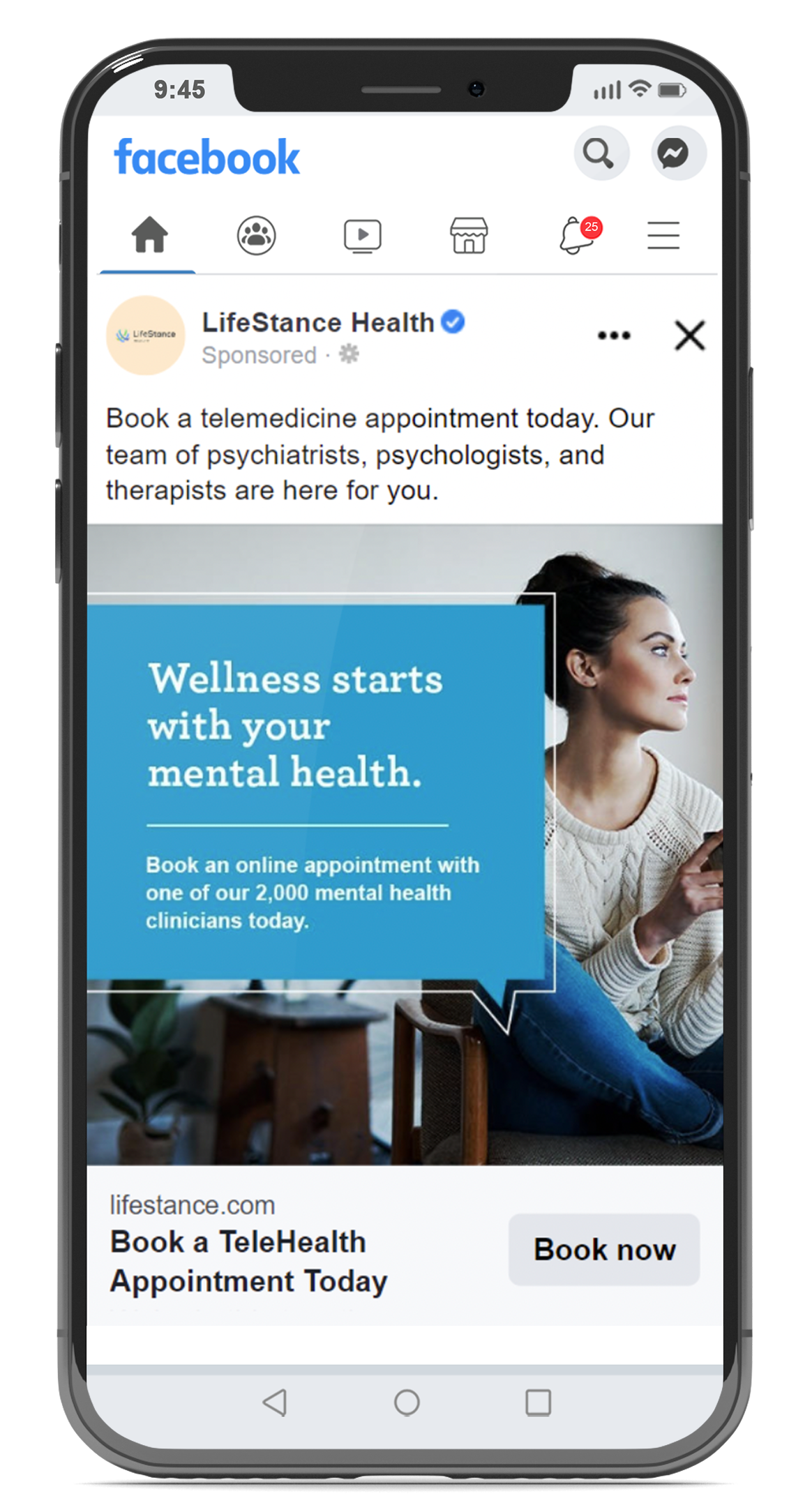 The Results
Unifying Multiple Brands and Positioning Them for Growth
What started as a marketing strategy for three or so regional brands has evolved into a robust national rollout. Cardinal has now implemented the SEO, paid media, and analytics strategies outlined above for more than twenty regional brands. As LifeStance continues to expand beyond 4,000+ clinicians and 500+ locations, this highly repeatable marketing framework will continue to be essential to scalability.
Since beginning its engagement with Cardinal Digital Marketing, LifeStance has consistently moved up the competitive landscape—all in a very short time. The company's domain has now built its backlink portfolio to more than three hundred referring domains, which has helped it rank for more than six thousand keywords. By 2021, the company is projected to outrank two of its top competitors in organic search
In terms of paid media, LifeStance's new campaigns have driven nearly 28,000 conversions in just six months, all while maintaining a consistent cost per conversion.
Conversion rates across this same period have exceeded 20%.
Looking forward, Cardinal is in position to quickly roll out this marketing framework for new locations. In addition, Cardinal will focus more closely on improving Google's Core Web Vitals scores across the board, building out keyword mapping and funnel tracking, and creating a new SEO dashboard for the entire LifeStance marketing team to use 24/7. When accompanied by an ever-expanding content strategy that includes podcasts, blog posts, white papers, this strategy promises to keep LifeStance highly competitive in both organic search and paid media.